CLAIM YOUR SPECIAL BONUS GIFTS TODAY!
Valued at over $8,859
In a BIG way we want to say THANK YOU for investing in this book that can help You ReCreate Yourself to be the YOU – that YOU desire to be.
Life is full of choices, and this has been one of your fabulous choices. Make your choice incredible by adding the further benefits of these amazing Bonus Gifts supplied to help you on your ReCreation Journey to take you from where you are to where YOU want to BE.
Visit the link below to access your huge resources of ReCreation Tools we are gifting YOU so you can have: MORE Friends, Money and Happiness.
So go ahead now and visit the link below to access all of your resources, valued at over $8,859:
www.haappiness.co/gifts
Here's a peek at what you'll receive:
5 FREE ReCreate Yourself Seminar Tickets valued at $1,687 X 5 = $8,435
FREE 2 Webinars of MORE Friends Money and Happiness Home Study Course valued at $200
FREE audio- Inspirational CD of one of Douglas McCoy's Talks of the Month valued at $57
FREE Haappiness eNewsletter valued over $67
Enjoy your access to this and more by visiting: www.haappiness.co/gifts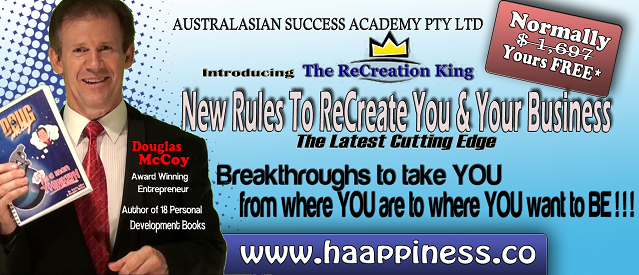 FREE Tickets, Valued at $1,697 each:
Choose from some of Douglas McCoy's Life Changing ReCreation Strategic Mind Set Webinar Programs like www.MillionaireMindMagnet.com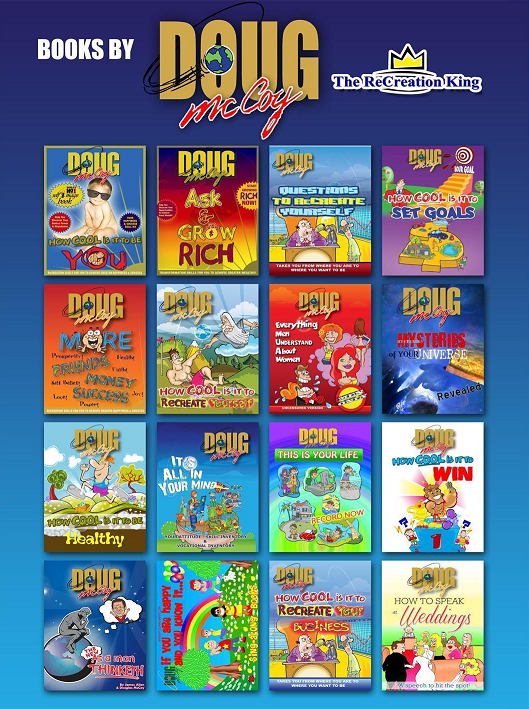 Choose from some of Douglas McCoy's Attitude ReCreation Strategic Mind Set Personal Development AUDIO BOOKS: