Douglas McCoy is the author that created the World's First Series of Books designed specifically for both Right and Left Brain Reader. Douglas hated reading as a kid, so he decided to make reading more interesting and fun. Doug has applied several spead learning and retention techniques to developed his amazing inspiring series of books to motivate the desires for success, greatness, happiness and a more satisfying life, as Doug assists to ReCreate his readers to change their lives and take them from where they are to where they dream of being.
How can YOUR BRAIN help YOU ReCREATE Yourself and how can YOU get the best results from it?
I'll tell YOU how;
is AMAZING!
I really want to help YOU discover and learn as YOU read my books. I have written them for YOU to get a lot of life changing experiences and benefits that YOU can understand and implement into YOUR Life to ReCREATE YOURSELF into the BEST YOU, YOU can possibly be.
YOU will have noticed that this book and others of my books are written differently to any other books that you have read before. My books are a result of my insight and understanding of how YOUR BRAIN works and how to get the most out of it and put the best into YOUR Brain. My books are written with a unique approach and ground breaking techniques in writing books, so more people can be helped to understand and even desire to keep interested in reading the good books.

Comments have been made: "Doug McCoy's Books are More FUN, More Impressionable, have More Impact, More Memorable, Easier to Recall, More Interesting, absolutely FASCINATING!!! "

Please realise that I have chosen to spend so much more time in preparing my books for YOU, with lots of Cartoons and Graphics and then invested so much more time and effort, plus the extra expense to have them all in nice colourful bright colors. I used the rainbow like colors to help stimulate YOUR Brain and enhance YOUR learning and comprehension, while they make YOU feel GOOD, even fabulous, happy and refreshed as YOU read. This technique I have developed in writing my books is completely different in that it creates the feeling good and uplifting mood as YOU read and learn.
YOU would know and understand that "A Picture is Worth a Thousand Words" so I have colourful, fun, light-hearted, pictures to help YOU learn and stimulate YOUR mind and more of YOUR senses, producing greater RESULTS for YOUR ReCREATION and increase YOUR desire to read and learn more.

THIS IS ALL ABOUT
Several of my books are relating to YOUR Self Image and Personal Development. I figure; what is the use of teaching YOU many principles and leaving out the FOUNDATION PRINCIPLES of Re-CREATION? It is vital for YOU to obtain the greatest benefits from my books and assist YOU to know:
HOW TO HAVE – BE and DO what YOU WANT.
If YOU have been reading my other books, I would suggest you apply the very principle that:
"Repetition is the core of learning".
Read and re-read these FOUNDATION PRINCIPLES over and over and over until they are natural characteristics YOU can use daily and they are YOUR absolute Keys, and fundamental to YOUR Skills designed to bring about changes for improvement and growth in YOUR Life.


READ, ENJOY and LEARN Color YOUR World; look for the JOY in each Cartoon character and keep breathing slow, steady and deep as YOU read and stimulate YOUR Senses, YOUR BRAIN and YOUR Countenance, as these colors and cartoons affect YOUR Whole System. As YOU enjoy the Variety, Colors, Ideas, Thoughts, Cartoons, Character and Symbols mixed in with these lessons, they will assist to provide: humour, inspiration, uplift and stimulate YOU to ENJOY, LEARN, FEEL BETTER and BENEFIT more as YOU read. HOW COOL Is It To use YOUR Right and Left Brain as YOU enjoy Reading andLearning ?


MY FORMULA
You can see some of the benefits and results that come from the extra features we included within this book:
CARTOONS = Stress-Relief, Fun, Visuals, Relate meanings, Attitude, Laughter, Happiness…
FUN = increases Humor, Smiles, Happiness, Joy, Memory, Laughter, Attitude…
COLORS = Affect YOUR Mood, Vibrations, Emotions, Breathing, Senses while Stimulating YOUR Brain, Attitude, Happiness, Health…
WARM COLORS = Positively impact on YOUR Creativity, Happy Feelings, Attitude and better Health…
REPITITION = Is the Mother of Learning, knowledge, confidence…
RIGHT and LEFT BRAIN = are Stimulated, used, affected, greater learning, impact, and engaged through all these techniques…
COMBINE THESE TECHNIQUES = to multiply the Impact, Effect, Power, Change, Learning, Attitude, Happier, Health and all of the above…
WHY DID I APPLY THESE PRINCIPLES TO THIS BOOK LIKE I HAVE?
To HELP YOU: This book, should be read and re-read over and over again, until YOU can finally catch on and apply the ReCREATION Life Changing concepts that are not new, but timeless in nature and life changing though their effects, as YOU grasp and use these techniques in YOUR daily life. I applied these techniques so you would enjoy the book even more as you learn more through each reading experience. YOU have a photographic mind and these images can make indelible impressions on YOUR minds.
As you read YOU can discover many of the reasons I design my books like this to give YOU maximum assistance for change and YOUR benefits:
Do YOU have One Brain or Two?
You actually have one brain. However, the cerebral hemispheres are divided right down the middle of the right and left hemisphere. Each hemisphere appears to be specialized for specific behaviors. The hemispheres communicate with each other through a thick band of 200 – 250 million nerve fibers called the corpus callosum. (A smaller band of nerve fibers called the anterior commissure also connects parts of the cerebral hemispheres.)
ARE YOU RIGHT or LEFT HANDED?


Are you right-handed or left-handed? As you probably know, about 90% of the population is right-handed – they would prefer to use their right hand for ballistic skills, such as throwing a ball, writing or swinging a hammer, which are strongly right-handed, while fine motor skills without a rapid sequence of movements are considerably less specialized. For example, threading a needle is only 77 percent right-handed.
So if this describes your preference to use your right hand you should see and read the rest of this section on your powers and skills of Your Right and Left Brain. FREE.
YES
for :

So if you desire to learn much more about:
Right or Left Hand Dominants and consider "Ambidextrous."
Dominant Eye and Dominant Ear which is referred to as your "Sidedness".
How this Dominance affects your personality, abilities, skills, desires and learning styles.
YOUR Left and Right Brain Processing System.
Skills and Strategies for the Left Hemisphere.
Dominant Functions of the Right Hemisphere.
Learning Which Requires both Hemispheres.
Bloom's System of Six Levels of Complexity of Thought.
4 Simple Steps I have found to further stimulate YOUR CREATIVITY.
How to use the 4 B's to stimulate Creativity.
How to FEEL and be HAPPY?
The effects of Colors on Your Brain and Life's Results.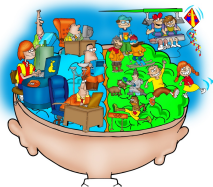 Functions of YOUR Right and Left Hemisphere
Go to my websites NOW and simple fill out the request so we can supply and let you download this exciting section on Your Right and Left Brain powers and Skills for FREE.
Register to receive Your Free Section on Your Right and Left Brain's Powers and Skills and HOW to increase Your Success and Happiness, NOW for FREE.
Also Ask about a copy of the: "Selected Affirmations From YOUR 21 Habits and 13 Goals Areas of YOUR Life" next time you attend one of Douglas McCoy's ReCreation Seminars.
Plus available ask for a set of FREE copies of the: "Ratings Of YOUR Personal Attitude or Skills Towards A Person or Group" forms.
NOTE the: "Selected Affirmations from YOUR 21 Habits and 13 Goals Areas of YOUR Life" are also available to order as a Creative Relaxation CD, to ReCreate Your life.
Order NOW from:
www.RightAndLeftBrainCertified.com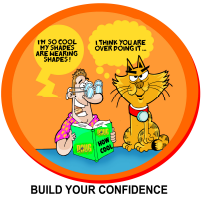 Choose to be Positive, Happy and Healthy,


CAN ACHIEVE WHATEVER
DREAM
OTHER WEBSITES, BOOKS, ReCreation Systems, CD's, etc
I would like to suggest to you to get online with your websites and promotions, as the marketing world is changing. I am happy to show you just some of my Internet – Online Marketing – Social Marking I am currently doing.
I have written over 18 books and prepared multiple ReCreation Systems, DVD's and CD's etc, I have prepared to help all my wonderful and major clients worldwide. My personal development –ReCreation books can help you change to be the YOU – YOU have always dreamt of…
Order NOW on: www.eSuccessAcademy.com.au
Other Website Links on Douglas McCoy's "Right and Left Brain Certified Books", Training CD's, "The ReCreation Strategic Mind Systems" recordings for "Advanced Brain Fitness and Conditioning" and lists of ReCreation Supporting Literature is made available through their Websites.
Find the websites for books and support material listed under the: "Links" tab on each of Doug McCoy's websites including:
www.DouglasMcCoy.com – hit "Links" tab.
Find Douglas McCoy's List and Websites on Doug's Other Amazing Books…
Find The Ultimate Achievement System(s) and "The ReCreation Strategic Mind System™ CD Sets" – NOW AVAILABLE: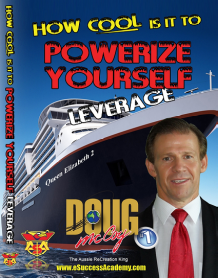 Douglas McCoy's – Leverage Seminar on The famous QE2
The Australasian Success Academy is an institution providing world class quality training and mentoring services to individuals and businesses of all sorts of backgrounds and fields. It was founded by Douglas McCoy , known as The ReCreation King for his phenomenal businesses he has created, trends he has set and many notable works in the Self-improvement, Personal Development and Emotional Empowerment Causes. The ASA Academy uses Douglas McCoy's special ReCreation Coaching methods and tailor-made techniques inspired from training of Doug McCoy or his mentors: Dr Willian Tanner he Co-Authored "It's All In Your Mind", or Dr. Les Cunningham the great Hypno-therapist for the Olympic Team, James Rohn, etc. The Great Psychological Doctor was one of the key pioneers of the early days of Our ReCreation Strategic Studies System ™ which later on Doug developed further to create our series of The Ultimate Achievement System using our ReCreation Strategic Mind System and Audio Sets. Even using these earlier versions of our systems, Dr William Tanner graphed sensational improvements in our American clients Attitude and Mind Power to obtain outstanding developments and huge success stories, which were clearly graphed. Dr. Cunningham had a sensational coaching Record second to none throughout Australia and New Zealand.
Dr Cunningham was able to assist his patients / students / athletes and salespeople he worked with and trained to ReCreate their Thinking, Attitudes and Mind Powers to break through their mental and physical barriers to achieve astounding greatness and success with a record including not less than:
18 went on to Break World Records,
37 placed as World or Olympic Champions,
Well over 250 have Represented Australia or their Country.
Athletes' and Teams to perform at their Best…

Studies with our ReCreation Systems, have been able to assist these patients / students / athletes he worked with and trained to become the BEST IN THE WORLD… ReCreating our clients Mind Powers to break through their mental and physical barriers to achieve greatness in so many various areas in life, happiness, business, sports, relationships, wealth and overall freedom to succeed where they chose. Today we make it possible for you to achieve these successes yourself, for you, your partners, business or families members.